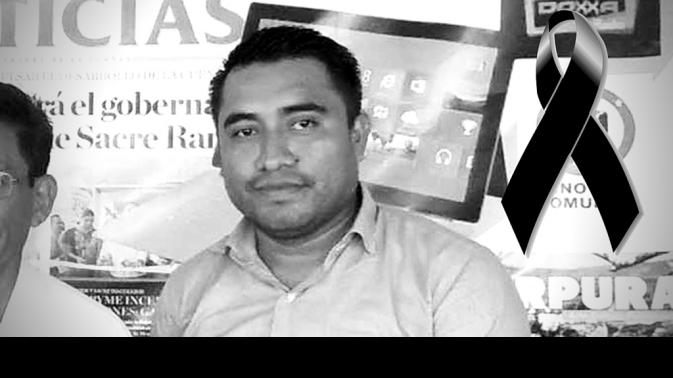 On January 21, 2016 another journalist was gunned down in Mexico recently, his name is Marcos Hernández Bautista, 38 years old, journalist from "Noticias – Voz e Imagen de Oaxaca". Hernández Bautista was killed in San Andrés Huaxpaltepec, in the coastal district of Santiago Jamiltepec, Oaxaca. They found his body slumped by his car. He's the fifth journalist killed under Gabino Cué's term as governor. According to police forces, the communicator was killed instantly by a 9mm bullet in his head.
The deadly attack occurred on the Federal Coast Highway 200 leading to Santiago Jamiltepec. The deceased, also served as councilor for culture in Santiago Jamiltepec, and was a contributor to radio stations in Santiago Pinotepa Nacional and Jamiltepec. The newspaper "Noticias" requires that judicial authorities to "thoroughly investigate the bloody deed goes against freedom of expression, and also to punish the person or persons responsible." Marcos Hernandez Bautista was also an activist of the leftist Party "National Regeneration Movement" (Morena). According to a study conducted by Reporters without Borders, Mexico was the most dangerous country for journalists in Latin America in 2015.
Press statement by the Council of United Peoples in Defense of the Green River (COPUDEVER, who struggles for the cancelation of the "Paso de la Reina Project" for Hydroelectric Exploitation in the coastal region of Oaxaca):
The murder of Marcos Hernandez joins a long list of violent incidents in the coastal region of Oaxaca, most have gone unpunished.
There are interest groups with economic and political power in the region continue to control the life of communities.
Marcos Hernandez was a journalist close to the people, he always support our fight for the defense of territory, always gave us a voice in the media, was always on our side, always accompanied us in our demonstrations, events, festivals, in our lives.
We regret that our region's voice Marcos has been silenced, as he was among the few who dared to denounce, he believed in the organization of the people and their rights.
Thanks Mark for your presence, we join the pain of your family.
As the Council of United Peoples in Defense of the Green River: We demand that the murder of Marcos does not go unpunished!
Punishment for those responsible!
We demand that the Mexican government provides guarantee for the work of journalists, defenders of human rights!
San Antonio Río Verde, Oaxaca January 23, 2016
Read more:
More about COPUDEVER (Information by Sipaz)
Reporters without Borders (Press Freedom Barometer – Mexico)
Press statement COPUDEVER (Pdf in Spanish)
Article by "Commitee to Protect Journalists"